The hills are alive... and you can see them right outside the window! This gorgeous mountain view shows the Alps of Austria, where Julie Andrews famously twirled around in full song. Look closely and you might even see her (no, only joking).
This window scene might not have
Maria von Trapp
but it does have the gorgeous green hills, valleys and peaks of the Alps mountain range.
It was photogrpahed on a beautiful summer's day and the sky is blue with barely a cloud. In the distance you can see jagged mountain tops, closer at hand you have a valley with meadows and roads. Chalets and mountain houses dot the hillsides and the foreground is carpeted with grass and fir trees.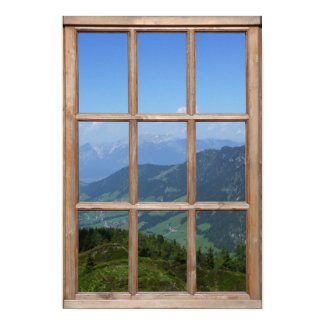 Mountain Top View from a Window by Scene From a Window
This view features the rustic wooden window frame, creating the effect of a real window on your wall.
Perfect for anyone who misses the mountains or has always wanted to travel to a landscape like the one featured in
The Sound of Music
. This window picture is also ideal for your cabin or vacation home (holiday home).
Best purchased in the generous 23 by 34 inch size for a window effect, you can also buy the mountain view as a smaller poster or a portfolio art print. Choose between matte or gloss heavyweight paper for a premium finish or choose the ultra-thick, heavy textured canvas.