I am delighted to announce a very special range of window view posters. These arched windows are create an eye-catching alternative to the classic picture that looks like a window.
An arch is an unusual architectural feature that captures the imagination, and this one is also notable for its shape which is wider than it is high. This creates an almost panoramic style of poster which presents familiar scenes in new ways.
Shown below is the Scottish Loch Scene arched window.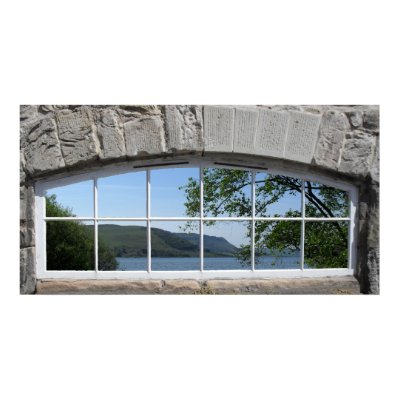 Arched Window with View of Sottish Loch by Scene From a Window
This lovely scene was photographed at one of Scotland's most scenic lochs and shows the still blue waters and the ancient hills beyond. The sky is a pale blue and almost cloudless, and the view is framed by a green shrub on one side of the foreground and by the curving branch of a tree on the other.
This is a typical Scottish scene that is ideal for reminding yourself of a vacation or stay in Scotland.
The window has 12 panes set in white-painted wood and the window itself has been made in a wall of old stone. Although repaired in places, this is a genuine window dating back several centuries and will add a real touch of history to a room.
The arched window frame poster is available in a 34 by 18 inch size that creates the effect of a window on your wall, or you can buy it in smaller sizes if you prefer. You have the option of basic poster paper or premium gloss or matt, or can buy it as a canvas.
You can find a selection of other arch posters in the Scene From a Window
Arched Window collection
on Zazzle.