Who hasn't wanted their own castle at one time or another? Well, for every little girl who wanted to be a princess or every young lad who dreamed of being a Medieval Knight, here's an idea for you.
Now you can create the effect of being in an ancient castle with this stone window. Photographed in a real
Medieval Castle
in Scotland, dating from around 1300. That's over 700 years of history on your wall!
The weathered stone has eroded in places, showing the passing of the years. The rock is pitted and even a little mossy. This window poster would be perfect for a Knights or Princess themed bedroom or just for adding some Middle Ages style to a room or office.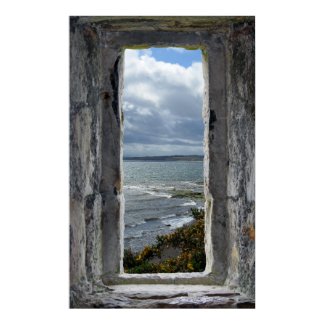 Castle Window with Sea View by Scene From a Window
The window picture is available with a number of scenic views from beaches and the ocean to Scottish lochs and castles.
Above is a sea view showing a coastal scene in Scotland. The sea waves are breaking on the beach and there is a cloudy sky with a patch of blue overhead. In the foreground you can see, just outside your window, a little of the gorse that lines this part of the coast.
You can buy this castle window view poster in a life-like 22 x 34 inches or all the way up to an impressive 33 x 52 inches!
See more stone windows in the Scene From a Window
Castle Window collection
on Zazzle.