There is something about a sea view that can soothe a restless soul and captivate the imagination. Many of us could sit for hours watching the waves roll in and out in an ever changing seascape.
This poster that looks like a window has a scene of ocean waves breaking on the rocky shore in a spray of seafoam. Large boats travel across the horizon and clouds sweep across the blue sky above. The peaceful scene is lit by the evening sun. The ocean view is seen through a wooden window frame.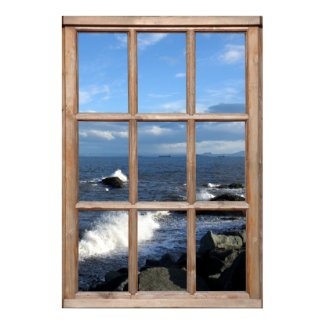 Sea View from a Window with Breaking Waves by Scene From a Window
The photographic poster is available in 3 sizes, the largest (at 23 x 24 inches) is approximately the size of a real window and is designed to give the effect of having a sea view outside when hung on your wall.
This is certainly an easier and less expensive way to get your own perfect view! Play some
sounds of the ocean
in the same room and you might just believe you truly are beside the coast.
The window view poster above is one in a large selection available via the
Scene From a Window store
on Zazzle.