Unless you are new to this window scenes blog, you've seen this stone window before.
I'm incredibly lucky to live in a land where castles literally pepper the landscape. Some are beautifully managed and have impressive entrance fees to match. Others are little more than ruins, but I like those best because you can wander in on a quiet day and and dream a while.
When there's nobody else around it's like having your own
private castle
.
One of the castles near me isn't just a wonderful old building, rich in history. It also has the most amazing view.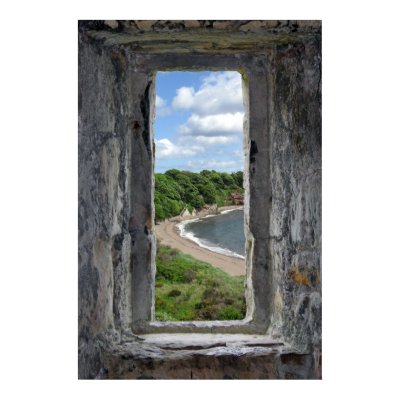 Stone Window framing a Beach and Trees by SceneFromAWindow
I always read about castles as defensive places, caught up in some battle or other. But they were homes, too, and lodgings for guests. And I think this must have been a wonderful place to stay with such a view.
Below its hilltop site, the little sandy beach curves round, sheltered by trees. The sea rolls in, breaking on the sand. A fascinating, ever-changing landscape.
Castle windows tend to be narrow, but they give you a different perspective on the world. I like that.
This one is as always available from the Scene From a Window
Castle Window collection
on Zazzle and is sized 23 by 34 inches in its largest print size.