Princesses-in-training and aspiring Medieval knights everywhere will love this castle window with a view that looks like it has come straight from a fairytale! It's such an easy way to create the illusion of a room being in a grand old castle, as the picture includes a good portion of the ancient stone window as well as the view beyond. Perfect for your own Rapunzel or Sleeping Beauty.
Of course, you don't have to be a child to enjoy looking out of this unique window frame at the trees and flowers beyond. This is an ideal poster if you simply want to bring some historic elegance into your home.
The window belongs to a real
Scottish castle
dating back through several hundred years. Yes, this is the genuine article whose stones have been eroded purely by the mists of time!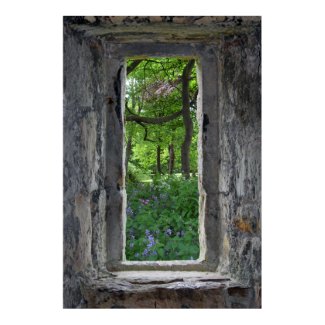 Fairytale Stone Window with View of Flowers by Scene From a Window
On the other side of the castle wall is a scene fit for a fairytale princess. Bluebells and flowers in pink and white peek out from the green plants in the foreground and graceful tree trunks and branches fill the upper part of the frame. The canopy of fresh green leaves allows sunlight to spill onto the lawn below.
This unusual window poster is from the Scene From a Window
Castle Window collection
on Zazzle. Visit to view it in more detail. You can buy the castle window with the fairytale garden view as a 23 by 34 inch poster, with a range of paper, canvas and framing options if you wish to further enhance your picture.