If you lived by the sea, you would wake each day to the sound of the waves and could walk on the beach before breakfast.
Of course, not every day in a coastal village is a sunny one and the lives of fishermen are full of danger. But for those of us who head to the ocean to refresh our bodies and souls, it seems like there could be no better place to live.
The fishing village that you see through this lovely arched window is located on the east coast of
Scotland
where you will find some of the best beaches in Britain.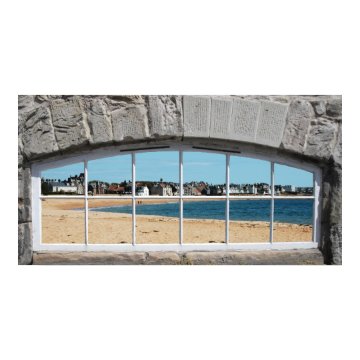 Arched Window with View of Sandy Beach by SceneFromAWindow
The sea view shows a sweeping curve of the fine golden sand that makes many Scottish beaches such a joy to visit. The sky is a pale blue and the sea a deeper blue. In the background you can see the coastal properties which include guest houses and fishermen's cottages. A couple of people walk by the sea's edge, dodging the waves, on an otherwise almost deserted beach.
This is a landscape that will delight any ocean lover who has dreamed of a home on the coast. The scene is set off by the attractive arched window in a stone wall which will make it appear as though your private beach lies on the other side of your wall.
The large size of this window poster is 34 by 18 inches. You can scale it down if you wish to 22 by 12 inches. It's also useful to know that this and other posters sold by Zazzle are covered by their 30 day money-back guarantee so if you are not fully satisfied you can send it back.