I love mountains. The clear, pure air. The abundance of wild flowers and fascinating animals. The feeling of being on top of the world. The lifestyle of good exercise, good food, and the best night's sleep you'll ever have.
Some years ago I lived in the Alps of Europe and it's a place I never tire of going back to. This scene is one of many reasons why.
The rustic wooden window frame reminds me of
chalet
living, with pinewood and balconies overflowing with bright geraniums.
Pull back the curtains and you will see a vista of mountains that changes with the light and the season.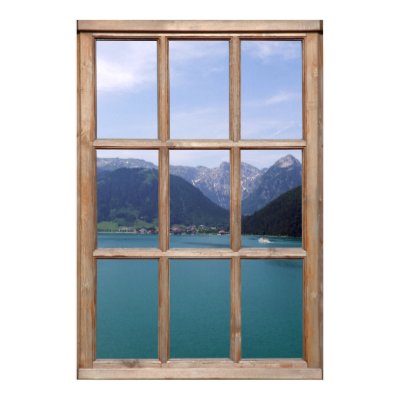 Alpine Lake View from a Window by SceneFromAWindow
Perhaps, as in this photographic poster, there will be a glacial lake, a stunning turquoise nestling in a valley between the peaks and ranges.
This one was photographed in Austria, a land of chocolate box scenes. You can see a white pleasure boat heading for the shore, where there is a little village.
Ah, what a lovely place to spend a sunny afternoon.
Get it in the window-sized 23 by 34 inches, or scale it down if you need to, and in no time you'll be day dreaming while gazing out on your very own mountain lake view.
(All sales handled by Zazzle, whose customer service team will give you any help you require.)