The laburnum is a beautiful tree. But, as someone once wrote, these days where once there were beautiful trees there are now housing estates and only the name (Laburnum Terrace, Oak Avenue, Willow Lane) remains as a sad reminder of what once stood there.
Thankfully, nature is resilient, as the weeds that keep spring up in my garden prove! Given a little space and time, trees can't help but grow. And of course we have parks and reserves where something matters other than how much a plot can be subdivided to generate as much income as possible.
This laburnum grows in a park and has been there many years. I was lucky enough to catch it just at its best, on a sunny day with all its yellow blossom hanging down.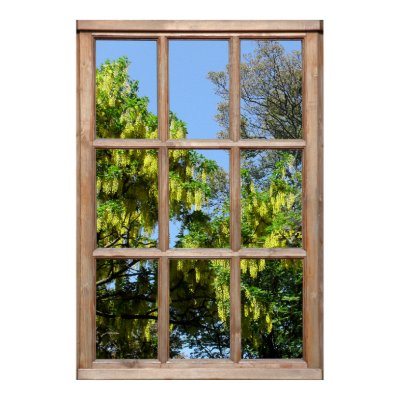 Flowering Laburnum Tree View from a Window by SceneFromAWindow
I suspect by now its beauty has passed and its blossoms have fallen. Of course, with a photographic print like this one featuring an in-built 'window', you can have a view of spring or summertime blossom at any time of year.
If you've stopped by the
SceneFromAWindow
store you will have seen a range of flowering trees including cherry blossom in pink and white, as well as the golden rain of the
laburnum
. Create your own dream tree collection by lining up two or three of these window posters on your wall.
As with all the rustic wooden windows, this one is sized 23 by 34 inches or can be scaled down to smaller sizes.