There's this pretty little harbor down at the coast... Well, where I come from, we spell it harbour. It's a lovely place to walk and watch the fishermen work on their boats.
On a sunny day all the colours are bright and cheerful, and the sunlight sparkles on the sea. Gulls and sea ducks fly overhead, always alert for an easy meal.
The harbour was built several centuries ago when it was also a shipyard and an important port for trade between Britain and the European continent.
You can still see much of the original stonework. This place was built to last!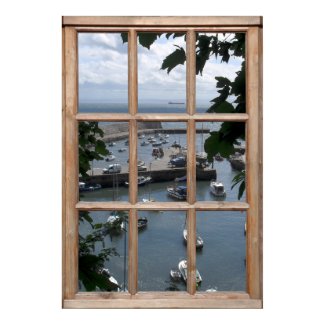 Scottish Harbor View from a Window by SceneFromAWindow
In this photographic poster you can see this little harbor through the wooden window frame. A collection of small
fishing boats
bob on the water, masts high in the air. You can see too the beautiful old-style lamp posts that line the harbour.
Leaves of a tree frame the scene from a high up viewpoint.
Look out to sea and you will see a ship on the ocean and even the distant hills.
This window effect picture is a clever way to create a coastal theme in your home or workplace. Available from Zazzle in 3 sizes, with the large size being 23 by 33 inches.