Now here's a window view to bring back memories of Scotland. The wood frame of the window invites you to look out on the landscape beyond, where a typically Scottish scene meets the eye.
The water is a loch (Scottish lake, but you knew that right?) which is a still, steel blue as it reflects the clouded sky above. At its shore are trees and then a patchwork quilt of green fields beyond, stretching to the distant hills.
This peaceful scenery is a wonderful reminder of hill walking or wandering along the lochside, maybe even taking a boat out on the lake. If you opened up the window, the air would be fresh and cooling against your skin with a breeze ruffling your hair. Listen carefully and you might even hear the lowing of
Highland cattle
in a meadow below.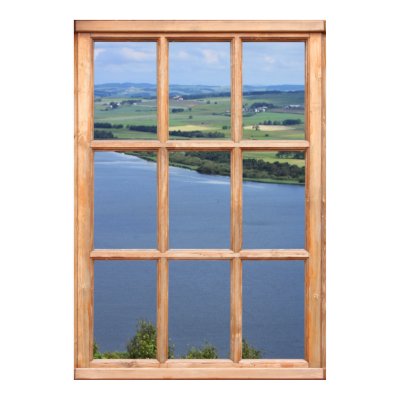 Scotland Loch View from a Window by SceneFromAWindow
This is the ideal scene to bring back memories of Scotland or as a gift for someone who loves all things Scottish. It was photographed from a high-up viewpoint on a hillside.
This is one of several Scotland scenes and views offered by
Scene From a Window
.
Get it in a nicely-sized 23 by 33 inches or size it down if you prefer.