First of all, may I wish my US subscribers a happy Independence Day and I sure hope you are enjoying that independence from, er, my country. :)
If you are celebrating outdoors, here's hoping for warm weather and blue skies. That's pretty much what we've got here too.
Today I'm delighted to share with you a new line of premium window posters on Scene From a Window, featuring a higher resolution frame with a warm, rich look to the wood. The featured scenes also have brighter colors and more detail.
They are currently just a couple of dollars* more in price than the classic wooden window prints, so you can choose whether to go with the more affordable option or pay a small amount more to upgrade to the premium scenes.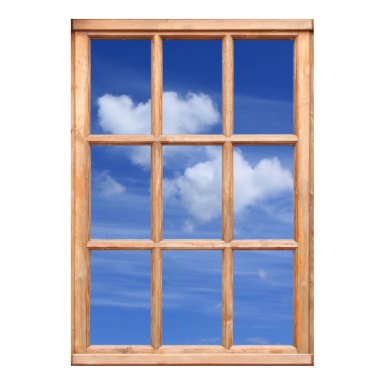 Fluffy White Clouds View from a Window by SceneFromAWindow
Here's an example that features a beautiful blue sky with
fluffy white clouds
. I'm thinking about putting this one above my desk so that, through the long, dark Scottish winters, I can dream of summertime. I bet you have a wall it would brighten up too...
At full size, this and other pictures in the
premium window poster
range measure 23 by 33 inches.
*Zazzle also operates in a number of countries around the world and allow customers to pay in a wide range of currencies.