It's been a while but I'm back with more gorgeous window views to share with you.
Here in Scotland the seasons are slipping from Summer to Autumn. The nights are getting darker earlier and there is a chill in the air. Of course, the other side of this is that stunning Autumn (or Fall, if you will) scenery... the changing leaves on the trees, the fields of gold.
And the enchanting song "
Fields of Gold
" is just what comes to mind, along with the beautiful voice of Eva Cassidy, when I see this window view of a golden field of barley. A blue sky and the deep green leafy trees belong to long summer days but the whisper of the whiskery barley swaying in the breeze tells a different story.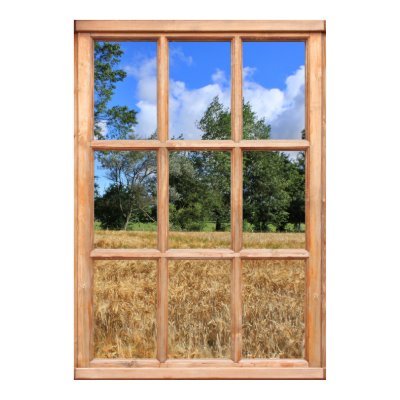 Field of Barley View from a Window by SceneFromAWindow
It's a scene that heralds the end of summertime, and the beginning of the harvest and nature's glorious display of colour. Framed by the warm wooden window frame, this is a way to have your very own 'field of barley' to gaze upon and to bring back those golden memories. The song "Fields of Gold" that inspired this photographic poster was originally a single by musician Sting, and also the name of his greatest hits album of 1993.
Eva Cassidy
, who died aged 33, gave the song a new burst of fame.
Available as always via Zazzle, the print-on-demand online store, in a range of sizes. I always recommend the 'large' which is 23 by 33 inches for that fake window effect.
Wishing you a beautiful and bountiful Harvest season.