If you are visiting this blog you probably like pictures that look like windows as much as I do. Well, here's some good news for you. Now you can get your hands on stretched canvas pictures that are wrapped around a wooden frame. What's great about that is that they have a 1.5 inch depth that really does give a fantastic window effect.
Let me show you an example so you can see how good this looks.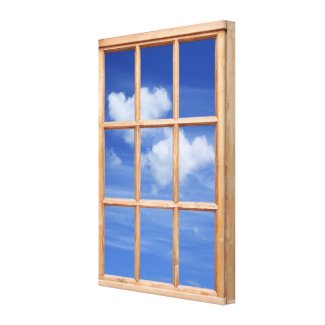 Sky and Clouds 3D Effect Window View Picture by SceneFromAWindow
Put one of these stretched canvas prints on the wall and you have yourself a three-dimesional 'fake window' that looks so much like the real thing. The wooden frame on the print extends round the sides, top and bottom so this will look convincing from all angles.
Choose your favourite peaceful scene from a growing selection from the Scene From a Window 3D Window canvas collection.
The 3D window pictures are available in a 16 by 24 inch size and are printed on heavyweight matte canvas which is hand-stretched for a perfect finish.