When it hasn't been howling a gale and pouring with rain, the Fall colors have been spectacular here in Scotland. A walk in a local park unveiled a whole palette of autumnal shades from flame-coloured beech leaves to vibrant yellows and gentle browns. One tree was so laden with crimson berries that it was more red than green.
One of the most eye-catching colors of all was the golden-yellow that made the tree featured in the window view below appear like something out of a fairytale. Caught just in that fleeting moment of changing from green to brown to bare, the halfway shade of the Autumn leaves is such a cheerful one. If only it could last a little longer.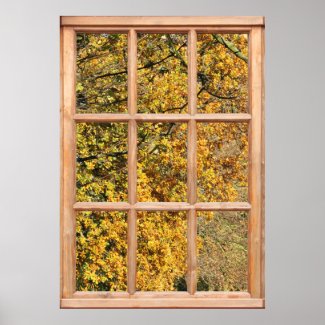 Golden Leaves of Autumn from a Window by SceneFromAWindow
Of course, that's the beauty of these 'faux window' posters as it can be Fall for you at any time of year. Change the season when you want to and not when the weather or calendar dictates!
The window effect poster is sized just under 23 inches by 32.5 inches. You can now preview how that will look on a selection of walls over on Zazzle before you buy (although, I warn you, some of these homes are very grand!).
As I've mentioned before, you can also add a custom frame. This is a great option that I've noticed people choosing more than once, as it truly adds to the window effect with an extra dimension. The Honey Oak custom frame (pictured below) is the one to choose, and it will be sized to fit for you. You also have the option of a mat if you wish, and that comes in a whole variety of shades.
Here's the Golden Leaves of Autumn framed poster without the mat: