Not many of us like cold weather, but one thing we all love is a beautiful winter wonderland of shimmering snow. It's hard to beat a crisp day when the sun is shining and fresh snow transforms a familiar view.
This lovely scene shows a tree-lined path through a park with a cloudless blue sky above. The snow gilds each branch of the tree that reaches out over the path in the foreground.
This is a window view for those days when you can stay snug indoors, curled up before a fire or under a duvet with a good book (or your favorite ebook reader
!).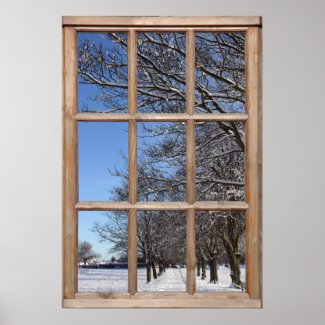 Snow Scene View from a Window by SceneFromAWindow
On the other hand, it's also a perfect way to bring the nicer side of a real, snow-filled wintertime to a home in a warmer climate. Ideal for those who have emigrated to a hotter country and miss the winters how they used to be, or for someone who has never seen snow and dreams of soft white snowflakes and a field of fresh snow outside the window.
The wooden frame gives this poster the faux window treatment, meaning you can hang it anywhere you wish you had a view. All of the SceneFromAWindow works feature genuine photographic scenes without digital 'enhancements' -- in other words, that snow on the branches really was there and was every bit as thick as it looks!
If you are thinking of buying this or a similar poster, this is a great time to head on over to Zazzle and take a look at what's on offer. There are daily deals that can save you quite a bit. For instance, order before Friday (entering the code on the banner over on the Zazzle site) and you can get 15% off your order. If you add a frame or add $50 worth of items in total to your order you can currently get free delivery too.