If you enjoy a round of golf, or know somebody who does, here's a window view that was surely created with you in mind!
As all golfers know, Scottish golf courses
are some of the best in the world. Playing the Old Course at St Andrews or visiting the new Trump golf resort in Aberdeenshire are dreams shared by many a golf enthusiast. Not everybody lives with the famous 'links' and courses on their doorstep, though.
Today's window view poster brings the golf courses of Scotland a little closer to you. It features a golf course a stone's throw from St Andrews: The Home of Golf
. Such an easy way to create the effect of having a course right outside your window!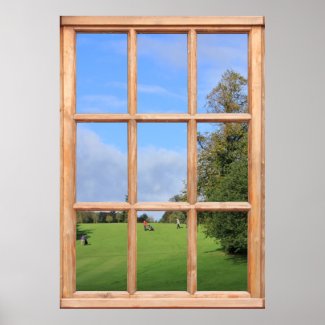 Golf Course View from a Window
The day captured in this photographic poster was perfect weather for a round of golf. A trio of golfers are enjoying the view from the well-maintained grass slope lined with trees.
Every day is a day for golf with this faux window! Available in the SceneFromAWindow store via Zazzle.com where every purchase has a full-satisfaction guarantee. Add a custom frame (I recommend Honey Oak) to give this a more robust window appearance or just enjoy the trompe l'oeil effect of the photography without any additional enhancement.